Music
Music will play an important role in the Congress as it did in the Art Deco era. Montreal was a mecca for jazz musicians who played in the many night clubs, now only a memory. Andrew Homzy, Professor of Music at Concordia University, has put together a selection of music, some with his original arrangements that will attempt to re-create the ambiance of the era. Here are some of the songs including the theme song, Hello Montreal,
——————————————————-
Credits for these performances:
Patti Payne and The Boys From Murray's.
Researched, arranged and produced by Andrew Homzy
Patti Payne – vocals
Peter Purich – violin
Denis Chang – guitar
Dominic Desjardins – banjo
Paul Van Dyk – contrebasse
Recorded at Boutique de son, Pointe Claire
George Doxas – recording engineer
——————————————————-
One of the things that gave Montreal its old sparkle was the fact that you could get a drink there when the States was dry. Montreal was the largest wet city on the East Coast during Prohibition (1920 to 1933). In 1928, the Irving Berlin Co. published a song that summed up the feelings of parched Americanos in search of a good time.
Ingersoll was the name of a line of inexpensive pocket watches which were known as highly reliable, even though they only cost a dollar.
Phosphate drinks were sort of like the French "diabolo", i.e. a flavoured syrup mixed with fizzy water, what today we would call a soft drink.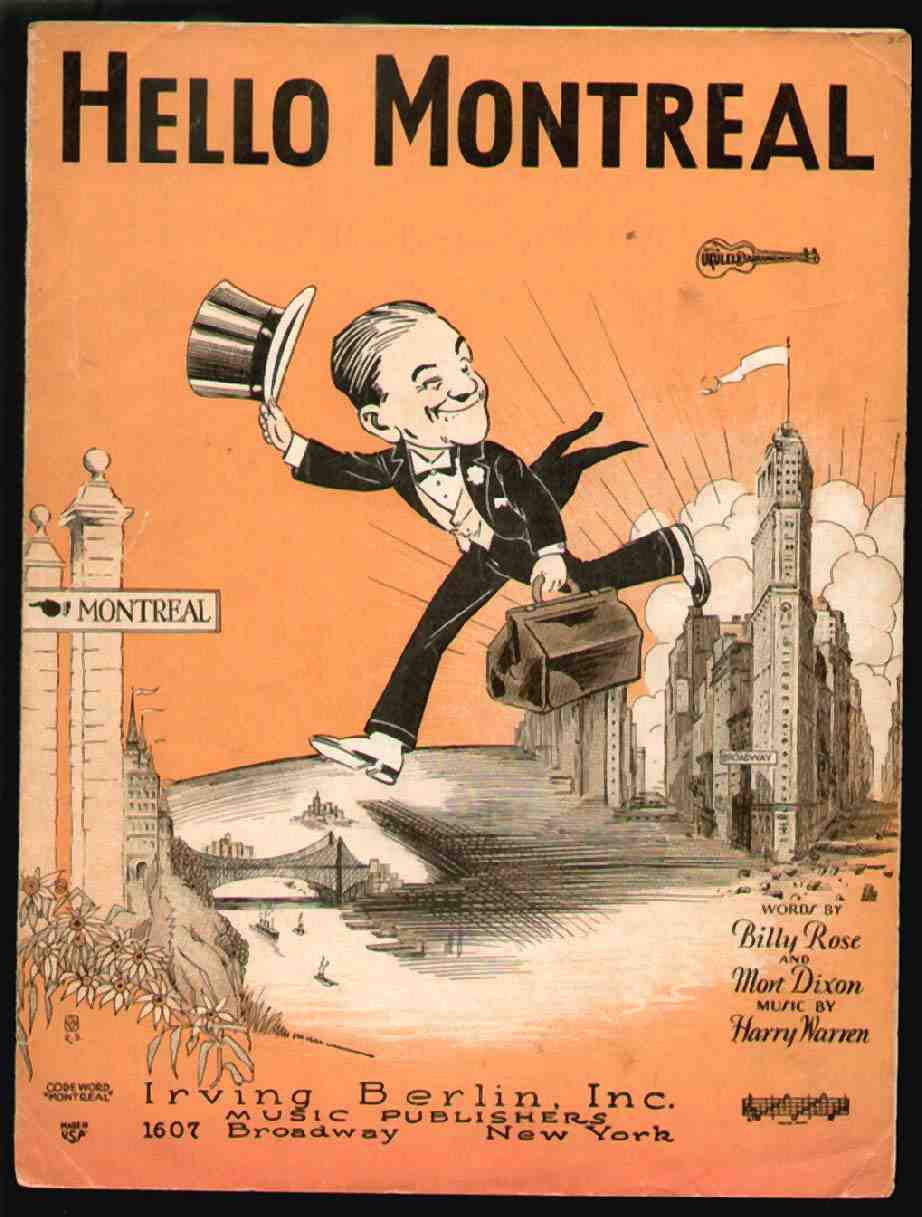 (sh) Speak easy, (sh) Speak easy,
Said Johnny Brown; I'm gonna leave this town, Ev'rything is closing down.
(sh) Speak easy, (sh) Speak easy,
And tell the bunch: I won't go East, won't go West, Got a diff'rent hunch:
I'll be leaving in the summer, And I won't come back till fall,
Goodbye Broadway, hello Montreal.
With a stein upon the table, I'll be laughing at you all,
Goodbye Broadway, hello Montreal. I'm on my way, I'm on my way,
And I'll make whoop-whoop whoopee night and day.
Anytime my wifey wants me,
You can tell her where to call,
Goodbye Broadway, hello Montreal.
Yamo, yamo, I think I want a drink; Yamo, yamo, there's water in the sink.
The sink, the sink, the sink, the sink, the sink;
The good old rusty sink;
But who the heck wants water when you're dying for a drink?
Oh, "We Won't Get Home Till Morning" Is the best song after all,
Goodbye Broadway, hello Montreal.
There'll be no more Orange Phosphates,
You can bet your Ingersoll,
Goodbye Broadway, hello Montreal.
That old tin pail, that old tin pail,
Was never meant to carry ginger ale.
There'll be photographs of brew'ries
All around my bedroom wall,
Goodbye Broadway, hello Montreal.
(sh) Speak easy, (sh) Speak easy,
Asked Tommy Gray; I must know right away,
Are the gals up there okay?
(sh) Speak easy, (sh) Speak easy,
Said Johnny Brown;
You ain't been hugged, ain't been kissed,
Till you've hit that town:
———————————————————————
 Won't You Meet Me at Murray's, written by Montreal pianist Willie Eckstein in 1929 in foxtrot rhythm. It sounds like a commercial for Murray's but we don't know if Murray's paid for it. Murray's was a popular chain of restaurants with Art Deco designs, now all gone. Every Murray's restaurant was designed by C. Davis Goodman who also designed BENS, a classic streamline modern diner that was demolished in 2008 to be replaced by a tasteless boutique hotel.
I'm going to sing you a song
Just as I'm strolling along
I'm in a hurry to go
I'm headed for Murray's you know
Won't you meet me at Murray's
When the weather is fine
Won't you meet me at Murray's
The best place to dine
When you're tired and hungry
And your spirits are low
Then you'll always find Murray's
The best place to go
The boy friend'll like it
The girl friend as well
The good things they serve you
You never can tell
If you want to be happy
And you want to feel good
Say you'll meet me at Murray's
Where the middle name's food.
 ———————————————————————
When the War Breaks out in Mexico I'm going to Go to Montreal, written in 1914, words by J. Brandon Walsh, music by Ernest Breuer.  The United States intervened in the Mexican Civil War (1914-1915) decisively on the side of General Álvaro Obregón. Because of American forces, Mexican President Victoriano Heurta was forced to surrender. The anti-war lyrics were "written for laughing purposes only!" Draft dodging didn't start with the Vietnam War.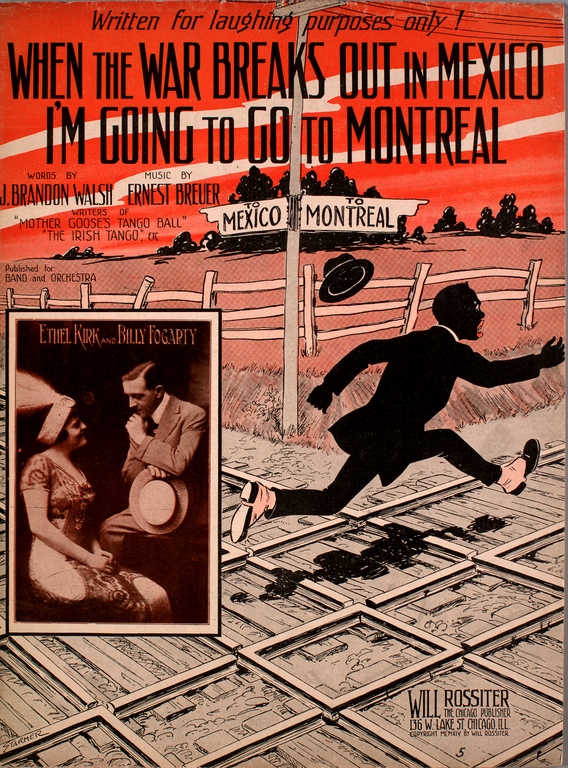 Somebody told Sam Jackson 'bout the War in Mexico
They said, your country needs you now, so grab your gun and go.
Go where the rifles crack and lead each mad attack
Sam said, I knew a hero once who got shot in the back
And after all the folks had read about the charge he led
They said, he was a hero, ain't it too bad he's dead.
Therefore, I must refuse to help Miss Vera Cruz
I couldn't go to any war with just one pair of shoes.
Sam Jackson said, my head and heart are very, very brave
But when I am in battle, my two feet will not behave
I had a fight one day, my head wanted to stay
In spite of all my head could do, both my feet ran away
A soldier on a battle field can have lots of bad luck
For when a bullet comes along, he might forget to duck
So when the bugles blow, and all the soldiers go
You'll see me going mighty fast, but not to Mexico.
When the war breaks out in Mexico I'm going to Montreal
On my forty second cousin up in Canada I'm going to make a friendly call
I'd like to be a hero in a suit of blue but my insurance policy is overdue.
When the war breaks out in Mexico I'm going to Montreal
A postal card will reach me up in Canada, I won't be coming home till fall
'Bout my patriotism, I don't want to brag
But I'll lean out of a windo and I'll wave a flag
When the war breaks out in Mexico
Some one else can start fighting
Just break the news to father that I'm going to Montreal.
———————————————————————
 (Lena, Queen of) Palesteena, written in 1920 by J. Russel Robinson & Con Conrad, (Lena The Queen of) Palesteena serves as an example of the era's fascination with Oriental/Asian exotic themes. In the 1920's Manhattan's show business fraternity began the exodus to Hollywood, seeking wider horizons on the silver screen.  In 1926, Lena, the Yiddish Theatre's "Queen of Palesteena," suddenly packed her bags and moved from New York to Los Angeles. "How come you made such a sudden decision?" she was asked. "Two reasons," explained Lena.  "Nobody lives in New York anymore, and it's too crowded." The melody has a strong Klezmer influence.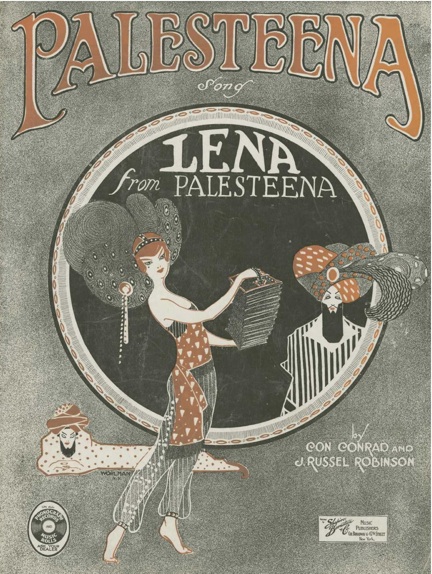 In the Bronx of New York City
Lived a girl, she's not so pretty
Lena is her name.
Such a clever girl is Lena
How she played her concertina
Really, it's a shame.
She's such a good musician
She got a swell position
To go across the sea to entertain.
And so they shipped poor Lena
Way out to Palesteena
From what they tell me, she don't look the same.
They say that Lena is the Queen o' Palesteena
Just because she plays the concertina.
She only knows one song,
She plays it all day long
Sometimes she plays it wrong,
But still they love it
What more of it
I heard her play once or twice.
Oh! Murder! Still, it was nice.
All the girls, they dress like Lena
Some wear oatmeal, some Farina
Down old Palesteena way.
Lena's girlfriend Arabella
Let her meet an Arab fella
Who she thought was grand.
On a camel's back a-swaying
You could hear Miss Lena playing
Over the desert sand.
She didn't know the new ones
All she knew were blue ones
And Yusef sat and listened all day long
(or: Till Yusef sat and listened in his tent)
And as he tried to kiss her
You heard that Arab whisper,
"Oh Lena, how I love to hear your song!"
(or: "Oh Lena, how I love your instrument!")
They say that Lena is the Queen o' Palesteena
'Cause she shakes a wicked concertina.
She plays it day and night
She plays with all her might
She never gets it right,
You think it's funny,
Gets her money.
There's nothin' sounds like it should.
So rotten, it's really good.
While the Arabs danced so gaily
She would practice aily-aily
Down old Palesteena way.
Lena, she's the Queen o' Palesteena
Goodness, how they love her concertina.
Each movement of her wrist
Just makes them shake and twist
They simply can't resist
How they love it
Want more of it.
When she squeeks
That squeeze-box stuff
All those sheiks
Just can't get enough.
She got fat as he got Lena
Pushing on her concertina
Down old Palesteena way.