Preservation Alerts
November 10, 2008
Support the Kalakala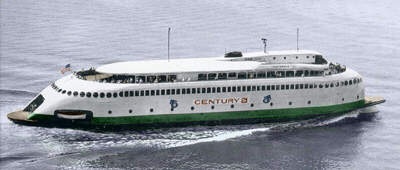 On 04 July 1935, the M/V Kalakala, the world's first streamlined ferry, started daily service from Seattle to Bremerton. After a long day of transporting vehicles across Puget Sound, the Kalakala left Seattle every evening at 8:30 for a 'Moonlight Cruise' that lasted until 12:30 am. Cost was $1.00 per couple to dance to Joe Bowen and the "Flying Bird Orchestra" – the red velvet chairs in the forward cabin were moved aside to provide a dance floor and music was electrically piped throughout the ship to all decks.
The Kalakala's architecture was influenced by Boeing model architect Louis Proctor and designed by Helmuth Schmitz in 1935. Her distinctive Art Deco streamlined style captured the imagination of a Depression-era weary public. This one-of-a-kind "concept" vessel remained in service from 1935-1962, but by the 1980s had become abandoned in Alaska, left to rust.
The Kalakala Alliance Foundation has been working hard to restore the ferry to her original brilliance. In 2006 she was listed on the Washington Heritage Register, and later that year the Kalakala was listed on the National Register of Historic Places. The Foundation has now launched a petition drive to garner support for her renovation, and we encourage you to learn more about this incredible vessel and how you can help.
Offical Website: www.kalakala.org
Online Petition: Go to the Petition
The Miami Design Preservation League is a non-profit preservation and arts organization founded in 1976. It is devoted to preserving, protecting and promoting the architectural, cultural, social, economic, and environmental integrity of the Miami Beach Architectural Historic District (Art Deco District) as well as other areas of the city and South Florida, wherever historic preservation is a concern. MDPL is the oldest Art Deco society in the world.
October 10, 2008
Shreve, Crump & Low Building, Boston
To ICADS friends and contacts:
Your help is urgently needed for an important battle which we have a good chance of winning with your support!
This is the first time in 20 years that preservation-minded Boston has needed to call on ICADS for letters of support.
We are in the final phase of a long-running battle to save an iconic building in Boston at 330 Boylston Street, known as the "Shreve, Crump & Low Building" because it was the home to the famous Boston jeweler for 75 years.  The building occupies a prominent corner in Boston's historic Back Bay, diagonally across from the famous Public Garden with its Swan Boats.  The proposed development by internationally recognized architect Cesar Pelli for The Druker Company developers, both very powerful names in Boston, would demolish the Shreve building and several other smaller buildings on Boylston Street and replace them with a 9-story monolithic contemporary office building described by the developer as "opulent."
The Boston Landmarks Commission has opened the door for a citizens' group to file a new petition for landmark status for the building, which must be turned in no later than October 15.  The first petition for landmark status submitted failed, party because it did not prove to the BLC that the building had anything other than "local significance."  Unfortunately, the first petition focused more on the building's importance to the social history of Boston, and included little significant information on the building's architecture.  BLC has indicated it would reconsider landmark status based on the significance of the building's Art Deco facade, and ADSB was called in to help.
One important distinction you will read in the attached PDF: the original building dates from 1904, and the two-story Art Deco facade at street-level was added for Shreve, Crump & Low in 1929.  Still, I hope that we can make a convincing case that the building represents an elegant and unique whole by combining the early French Art Deco style with the early Beaux Arts ornamentation.
 —————————————————
THREATENED HERITAGE BUILDING
To whom it may concern:
It has come to the attention of Art Déco Montréal, a member of the International Coalition of Art Deco Societies (ICADS) and host of the 10th World Congress on Art Deco, May 24-30, 2009, that the  iconic "Shreve Crump and Low Building" at 330 Boylston Street may be demolished. Such a move would be a horrible mistake, a great loss to a wonderful city. A city I and many fellow Montreal's have studied and worked, and continue to love to visit to explore its inviting architectural heritage.
Apart from being one of a few Art Deco buildings in Boston's Back Bay and the only remaining important building in Boston by noted architect William T. Aldrich; for 75 years it was also the home of the world renowned Boston jeweler, Shreve, Crump & Low, the oldest jeweler in North America, and the manufacturer of such prestigious trophies as the Davis Cup and the Cy Young Award. For these reasons alone this building should merit landmark status, which would prevent its demolition.
In addition it is economically and ecologically unsound to demolish this building. Tourists come to a city to explore its architectural heritage, and film crews come to seek out such landscapes. As you are no doubt aware, "The greenest building is the one already built."
The "Shreve Crump and Low Building" is an outstanding and rare example of an Art Deco façade skillfully grafted onto an existing beaux-arts structure. It is the only building in Back Bay that successfully combines these styles, thus marking an important architectural ornamental transition from 19th to the 20th century styles. Such a unique building must be saved for future generations. The developer must find an appropriate way to incorporate this outstanding building into his project
Once again we are obliged to impress upon you the importance of not allowing this special building to be destroyed.  When visiting Montreal for the 10th World Congress on Art Deco, a number of our delegates are planing to visit Boston. What will these world travelers find when they visit? A graveyard of heritage architecture?
Sincerely,
Sandra Cohen-Rose
President Art Déco Montréal
Jack Gaiptman
Chairman Heritage Committee, Art Déco Montréal